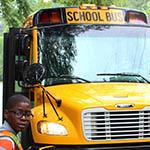 The Transportation Department of the Wake County Public School System has begun to get ready for the 2018-19 school year. The Transportation Department is contacting current bus riders by phone and email asking them to go online to make Transportation aware of their changing needs.
Families with children that are transportation eligible and are riding the same bus to the same school next year don't need to take any action.
Families that need to update their student's bus service needs for the 2018-19 school year, should go online at www.wcpss.net/busrider and complete the form.
Families with a student assigned to a bus but not riding the bus are asked to submit the decline bus form at www.wcpss.net/declinebus so that Transportation has the family's most up-to-date information.
If a family needs to look at their current Transportation information, they can find it online. Up-to-date transportation information is available in their student's Home Base/PowerSchool account. Families not using Home Base/Powerschool can sign up for an account at their school. More information on Home Base is available at www.wcpss.net/student-information.