Y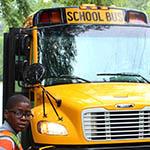 ear-Round and Modified calendar bus rider families are now able to use a free bus tracking system called Here Comes the Bus (HCTB). Traditional calendar families will be provided access to the app approximately three weeks after the start of school for their calendar.
Here Comes the Bus is an easy-to-use website and app that enables you to view the location of your child's school bus on a smartphone, tablet, or personal computer. HCTB allows you know when the bus is near your stop.
You can sign up for Here Comes the Bus at https://herecomesthebus.com/getting-started/.  For your smartphone or tablet, download the Here Comes the Bus app from the App Store or Google Play. You will need the district code (67500) and your student's ID number (student lunch number) to sign up.
Once activated, you can customize or edit certain features. This includes how the app communicates with you and the size of the notification radius.
Once you are logged into your account, the link to HCTB customer support can be found by selecting Help.  Additional resources can be found there as well.
Please note: WCPSS Transportation makes bus substitutions when preventative maintenance is due and in response to the management of drivers. When a substitution is made, some features of the app may not work.
Questions or concern related to bus service issues should be directed to www.wcpss.net/transportation.